Last week, we packed up the family and drove to Denver for SIC 2007. The Software Industry Conference is an annual conference geared towards independent software developers and vendors.
As usual, there were some very helpful sessions. Dave Collins and Thomas Wetzel convinced me to give Google AdWords yet another try with their insights. There were several sessions about blogging, newsletters, and podcasting as marketing vehicles, with Bob Walsh, Phil Schnyder, and Michael Lehman making several appearances on these topics. Nick Bradbury, author of the excellent TopStyle, had a great presentation on effective user interface design and the difficulties of keeping software simple while still satisfying the needs of power users.
David Intersimone of CodeGear had a session on native code development. I have to say I was a bit disappointed that he didn't make more of a pitch for using Delphi. He showed off some of Delphi's features, but his session seemed to be more of an overview of the development options for Windows, rather than one really driving home the benefits of native code development with Delphi. But it was great to see CodeGear at SIC, because it shows that they understand the importance of reaching out to independent developers rather than just focusing on enterprise customers like Borland has been doing for the last several years. Spending time talking with David was a highlight of the conference for me.
There are plenty of sessions I didn't mention simply because there are too many for one person to attend.
SIC isn't just about sessions, it's also about networking and schmoozing.  It's nice to have an opportunity to spend time with people in the same industry, as being an independent software developer often means spending your days behind a computer without "realspace" interaction with your colleagues. I had a great time meeting new people, and especially catching up with people I've met at previous conferences.
Industry Awards at SIC
The Shareware Industry Awards Foundation presents several awards each year at SIC during an awards banquet. Last year, my wife and I attended the banquet and decided that we could save some money by skipping it the next time and eating out at a restaurant instead. So this year, a group of us drove out to Ruth's Chris Steakhouse where we enjoyed some good steak and excellent company.
Upon our return, I was informed that I missed my own award presentation! I didn't believe it at first, because I assumed Bible Software was too much of a niche market to even put me in the running. But nobody was pulling my leg — SwordSearcher received the People's Choice Award for the Hobby & Personal Interest category. I was stunned — I didn't ask anyone to vote for me, I didn't mention it in a single newsletter. I didn't even vote for myself! The People's Choice Awards are voted on by thousands of people across the internet on major websites like CNet, Tucows, and PC World. So that was exciting.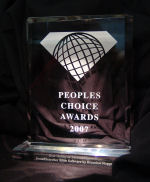 Here's a picture of the award. It's much heavier than it looks and takes up a good deal of space on a shelf. Always thinking about getting the word out, I promptly wrote a press release announcing the award.
A big thank-you to the folks who put on the conference. I hope to be able to attend again next year in Boston.