A Continuous, Bulk Ink System for my Epson R200
Originally posted December 2004
A few months ago I purchased an Epson R200 ink jet printer. This is an excellent, inexpensive printer that prints on inkjet-printable CD-ROMs and DVDs. I am impressed with the quality of the printer, especially considering that the printer can be purchased for about $80.00 online.
However, after short use of the printer, I realized that Epson is "giving away the razor and selling the blades." Consider this: The printer costs $80 and comes with a full set of cartridges. And Epson sells a full set of replacement cartridges for about $80! The way I think, it would be better to simply keep buying new printers rather than buy the replacement ink that costs just as much!
I didn't like the idea of replacing my printer every time I ran out of ink, so I researched other options. I found that third-party ink cartridges can be purchased at less than half the cost of the Epson-brand cartridges. Still, with the amount of printing I do, this is still too costly in the long run, if something else can be done.
Enter Continuous Ink Systems. A Continuous Ink System (CIS) is basically a jerry-rig setup where ink is fed from bulk bottles right into the printer, and you never change cartridges.
Before I go on, let me mention that Epson says using anything except their brand of ink cartridges voids the warranty on the printer. So you are warned. But do the math: a new printer costs the same as a new set of Epson cartridges. Who cares about the warranty? Not me.
So without further ado, here is my short and sweet review of a CIS for my Epson R200.
Continuous Ink System from InkRepublic.Com
I did a little bit of Googling and found that CIS prices range from $80 to almost $250 (with ink included). After filtering marketing noise, it appears that the difference between the expensive systems and the cheap systems is the dampers – the final stage between the ink bottle and the print head. The cheap systems use sponges that can dry out and supposedly stop working after five months on average, and there are "horror stories" of ink leaking after prolonged use. The expensive systems, like the one I got from InkRepublic.com, don't use sponges at all. Well I don't know anything about how printers are made, so I just do the math: three sets of Epson cartridges would cost me $240. A CIS will last a lot longer than three sets of cartridges would, and after the ink is used up, I only need to by replacement bulk ink, not a whole new system. So if it works, I will save money no matter what. So I got the "pricey" system from InkRepublic.Com. They sell systems for various printers: the one I got works on the Epson R200 and R300.
My order was processed fast: I ordered it on a weekend and received it by Priority Mail the next Wednesday. Also, after I placed my order, I sent an email asking how it would be shipped, and they responded within a half an hour to let me know.
Some Assembly Required
Here's the thing: if you don't like the idea of a good half-hour of assembly work with latex gloves on your hands, don't bother with a CIS. And be realistic and expect it to take you and hour to set the system up. Here's a photo of most of the parts before getting down and dirty with the ink. This photo shows the parts after I separated the ends of the tubes and put the "ink stoppers" on them: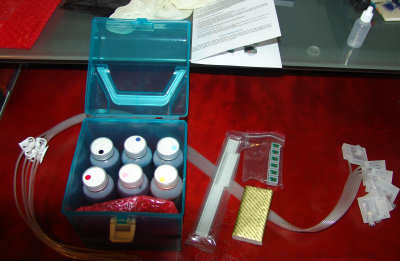 The system comes with tubes, tube guides, six bottles of bulk ink (the R200 uses a six-color system), a chipset, and a "vacuum" which is just a bottle, and some gloves. Do what I didn't do: keep the gloves on until you're done. I have ink on my hands and I don't think it's going away for a week.
I guesstimate that each bottle of ink has 10 cartridges-worth of supply in it. Just a guess.
Included in the package is a Video CD (you should be able to play it in your computer or a DVD player) that shows someone putting the system together. Watch the whole thing first before you even start. It also comes with a one-page "manual" folded in half that explains each step, but you'll need to use it in conjunction with the video to get the work done.
Once you get the tubes into the bottles, you have to prime the cartridges. This is a little tricky, because once you prime the carts, you have to immediately pinch off the "ink stopper" to prevent back flow and prevent spillage. Here's a photo of everything done before I put it in the printer:
You have to take care to make sure you get the ink colors in the right order, which means you have to open your printer and plan ahead for cartridge placement. One of the cartridges seemed to be 'reversed' in my set, so I used it as a key and put black in it and went from there.
Once all of this work is done, you need to pull the old Epson cartridges from your printer and put the new "chipset" in. The chipset fools the printer into thinking it has ink cartridges in it and the printer won't work without it. Some notes on this: You have to have a working setup with Epson cartridges before you try to install the CIS. The printer will refuse to start working if it has never had "real" cartridges in it. Also, it took me three tries to get the printer to power on without error lights with the CIS chipset. And I don't mean just turning it off and back on, I mean taking out the chipset and new cartridges, putting the Epson carts back in, getting it working, then removing the Epson carts, … Save yourself some trouble: I found (after dripping ink into my printer and on my desk a few times) that you can put JUST the chipset in and see if the printer will recognize it. Until it thinks it has working cartridges, save yourself the trouble and DON'T actually put the new CIS cartridges in. And once you do, don't forget to un-pinch the ink-stoppers, or you'll get nothing more than a little blob of ink on your page.
Now understand that this review is not an attempt at a full "how-to" guide. I am not trying to tell you everything to do: watch the video and read the instructions. I am just trying to give you an idea of the hassle that awaits you if you get a CIS. So I am now going to skip ahead a bit.
Once the system was fully installed, I did a nozzle check. I was very disappointed to find a lot of missing bars on the nozzle check pattern. The instructions say to try a head cleaning no more than just twice, and then let the printer sit for a while before trying to print again. This sounded odd to me, but it works. I set the CIS up yesterday and couldn't get a clean nozzle check. This morning, it's perfect!
Here's a photo of the completed system printing a photo:
Note the wonky, jerry-rig nature of the setup. I have this bucket-o-ink on the left of the printer. (And you want to make sure you put the ink on the same level as the printer, or physics will take over and you could end up with ink dripping into your printer when you're not using it.) I had to experiment a bit with the ink tube guide to get it in a spot that would not in some way obstruct the print head movement or make lots of worrisome noise. The tubes into the cartridge holder look like this:
I had to spend some time getting just the right "fold" on the tubes in the holder to make sure the tubes come out just the right way to properly glide back and forth.
And yes, this means I can't close my printer all the way. But the cover sets over this setup fine, it just won't completely close, and I feel more comfortable leaving it open while it prints.
Well, 24 hours after starting installation, I printed a test photo to see how it looks:
Now, Epson will tell you that not using their ink is a bad thing because the quality of the print is not as good. Frankly, I can't see a problem with my prints, and neither could my wife. They look great.
Here's a close-up of my bucket-o-ink:
And another word of caution: if you go to remove the CIS cartridges from the printer, PINCH THE INK-STOPPERS CLOSED FIRST! Otherwise ink will siphon all over your printer.
Final Conclusions
Well, bottom-line: it works. However, it is a little "cheesy" and was a pain in the neck to set up. But it will save me hundreds of dollars a year at least.
I am not one to begrudge a company their profit. But Epson can profit off someone else buying their liquid-gold ink. As for me, I have a bulk ink system that works.
Update – Feb 4, 2005
Well, it's been a little over two months and several hundred printed discs since I installed the CIS. And it's working great, and none of my bottles are even half used up.
I've received a few emails from people coming across this review and asking me about other CIS systems that cost less. Basically, from what I have read, it seems that many of the cheaper systems use inferior cartridges (made with sponges) that can fail or damage the printer, or may have problems with air in the ink tubes. All I know for sure is that I am quite pleased with my InkRepublic ink system. It may help to think of it in terms of loss: If you get at least $80 worth of prints out of a CIS before it fails, then you really haven't lost anything, even if your printer is damaged. This Epson R200 is basically disposable anyway.
Another update – Jan 2006
Well now. This little review sure does get a lot of traffic! I get a lot of email asking me how things are going, so here is another update.
It took several months of heavy use to use up all of the ink that came with the CIS. I ordered more ink for the kit, but before I could switch bottles, the printer finally wore out and died. The CIS had nothing to do with the printer finally breaking down — it was used very heavily, and hey, it's a $90 printer!
I replaced the printer, but haven't re-installed the CIS, because, well, I just don't feel like I have the time to do it. Instead, I have been using third-party ink cartridges. And they seem to be working just fine, and are more convenient to install than the CIS, and cost half what Epson charges for their cartridges.
The question I get most is "would you still recommend it?" Well, the answer is that I wouldn't change anything in my review text above. It's a good move if you want to save a lot of money on ink and don't mind the installation work.